Bench top Spectrophotometer CM-5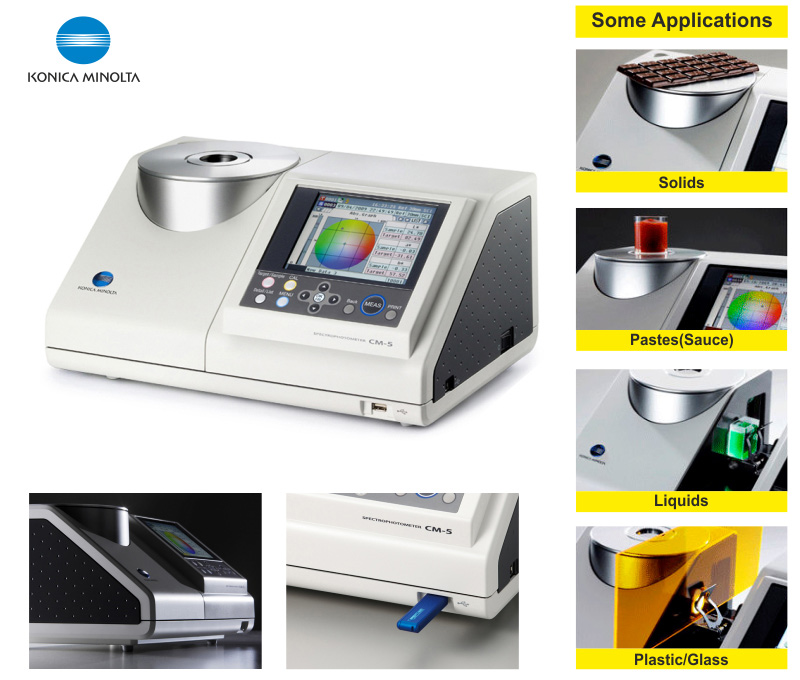 Features of Color Measuring Spectrophotometer
Measuring colour using spectrophotometer in Mumbai, India to entire world by exact measurement color.
Color spectrophotometer price in India low for measuring colour using spectrophotometers for color measurement.
Compact, versatile color measurement instrument with reflectance & transmittance measurement.
Easy to use bench-top Spectrophotometer with on board keyboard and large LCD screen.
USB supported for multi user facility and for saving target and measurement data.
Facility for setting up automatic calibration.
Automatic calibration - Set the unit to Automatic Calibration and every time the unit is turned on calibration can be performed automatically.
Top port design for easy positioning of the sample.
Three measuring areas for adapting to different sample sizes.
Measuring sample can be of any form and size - Solids, Pellets, powders, gelatins, pastes, opaque, translucent and transparent liquids.
Ability to measure as per indices of chemical and pharmaceutical industry such as Gardner, Hazen/APHA, Iodine Color Number, US Pharmacopoeia and European Pharmacopoeia.
Large transmittance chamber for easy measurement of sample sheets up to 60 mm thick.
Measurement in color space - L*C*h, L*a*b*, Yxy, XYZ, Hunter Lab, Munsell, and color differences in these spaces (except for Munsell).
Applications of Color Measuring Spectrophotometer
Automotive, chemicals, construction, cosmetics, electronics, food, medical, paint, pharma and plastics. Measuring colour using spectrophotometer in Mumbai India to worldwide to read exactly same measurement color using spectrophotometer.